I first saw the Cajun band La Bande Feufollet on Friday, July 12 2002 at approximately 9:00 PM on the main stage at the aptly named Blissfest Music Festival (I have the program in front of me). They were the next to last act on the main stage.  A critical time slot that comes with high expectations.  They were expected to get people out of their seats and dancing, exuberantly.  Especially since the closing act was singer songwriter Janis Ian, who clearly was not there to do that. 
What's remarkable about all this is that the members of Feufollet were just children.  They ranged in age from twelve to sixteen.  But apparently the Blissfest talent scouts knew what they were doing.  Feufollet did not disappoint.  The kids did what they were hired to do.   They rocked the joint.  They played mainly traditional Cajun music with an exuberance borne of their youth and a virtuosity borne of talent and dedication to their craft.  
Feufollet played several shows that weekend. I think we saw each one.  We loved the music. But it was extra special because Camee was just 11 years old at the time.  And she was learning violin at school.  She really enjoyed those shows. It was inspiring to watch these children, barely older than her, up on stage playing professionally and exceptionally. 
So the 2002 Blissfest is the Feufollet Blissfest.  And it will always be special.   
I wish I could post a video for the band from the 2002, but the oldest that I could find was from 2008.  So here it is:
And here's a grainy photo from the band's 2001 album Belle Louisiane.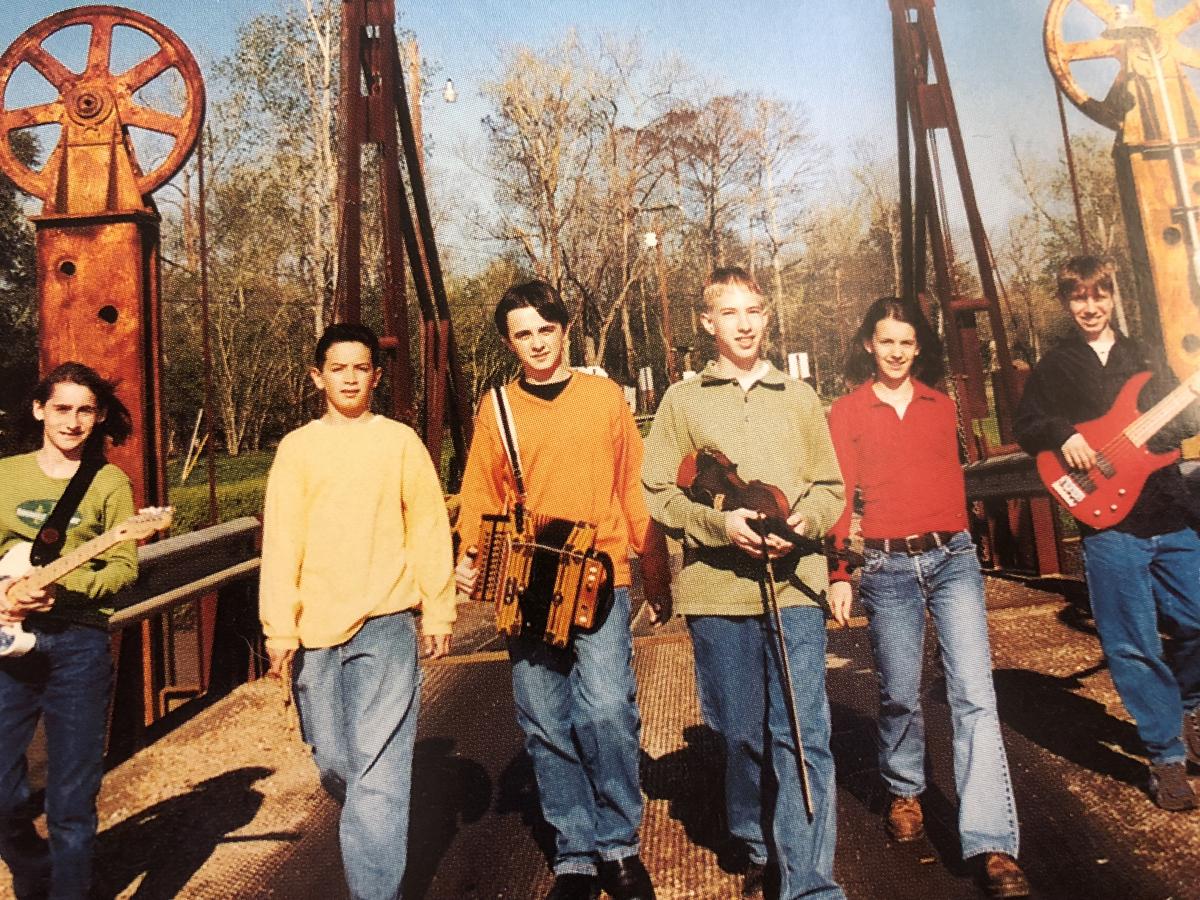 So fast forward to the 2018 Blissfest.  I'm delighted to see Feufollet (just "Feufollet", no longer billed as "La Bande Feufollet") on the schedule.   But I really didn't know what to expect. How have the year's changed them and were they even the same members?
Ok, so it turns out there had been quite a bit of change.  Accordianist, fiddle and guitar player and singer Chris Stafford (third from the left with the accordian) is the only founding member remaining.  Sort of too bad, but then again not really.  The band is still great and really has come a long way.  So once again, I was totally impressed by a band named "Feufollet".  But this time it was different.
No longer are they a young band winning over audiances as young, enthusiastic, talented and highly skilled musicians.  This is now a band, with all of those attributes, that above all else is winning over audiences with exceptional songwriting.  That was apparent in all three of their shows that I saw that weekend.  It is also apparent on their new album Two Universes.  What's more, they are no longer a Cajun band.  They are a rock and roll band that is highly informed by Cajun and traditional music. 
The great songwriting starts with the first track Tired Of Your Tears.  It's a perfect example of what I just described.  While it's not a Cajun tune, the fiddle and accordian put their Cajun roots on full display. Kelli Jones, one of the newer members does the lead vocal.
I'm tired of your tears . . .
maybe when snow falls in June,
maybe when the sun sets at noon,
when nine and three add up to one
maybe if maybe it was set in stone
well maybe then maybe you'll be happy then.
Know What's Next is an upbeat rocker that feels like it belongs on an NRBQ album circa 1985-1990.  I could easily hear Joey Spampinato singing it. It features the keyboards of Andrew Toups and represents a significant departure from their Cajun roots.  When You Said Goodbye is a heatbreaker that features the beautiful vocals of Kelli Jones and some heart wrenching fiddle. I wish I could find a youtube link for it. Oh well.
Take my hand and lead me home
or just to somewhere that I belong
write me a song that mends my heart
or at least one that tells me where to start
(heart wrenching fiddle solo)
oh, it must have been something you said when you said you said goodbye. . . 
. . . take my face and wash it clean
or just help me make sense of what I've seen
find me a love that's tried and true
or at least someone who isn't you
(heart wrenching fiddle solo)
oh it must have been something you said when you said you said goodbye.
Great song! Great Album! Great Band!
- Alan Likes Music
P.S. Here's a mesmerizing performance by Chris Stafford and I'm guessing original members Chris Segura and Brittany Polaski. Beautiful!