Several weeks back I wrote a blog post about songs that have made me tear up.  Somehow I left out Long Black Veil, a sad hauntingly beautiful tale of a man who let himself be hanged for a murder that he did not commit.  The lyrics, sung in the first person, describe a man who cannot offer an alibi at his trial because it would expose an affair he was having with his best friend's wife. 
The judge said "Son, what is your alibi? If you were somewhere else then you won't have to die"
I spoke not a word although it meant my life. I had been in the arms of my best friend's wife
She walks these hills in a long black veil.
She visits my grave when the night winds wail.
Nobody knows, no and nobody sees, nobody knows but me.
Originally recorded by Lefty Frizell in 1959, many fine artists have covered the song, including Johnny Cash, Mick Jagger and the Chieftains, The Dave Matthews Band, and Bruce Springsteen.  But for me, it will always be a Band song.  It appeared on their classic debut Music from Big Pink.  That's the version that I first heard, and that's the version that brought tears to my eyes. 
It is sung in Rick Danko's high lonesome wail, with the sad soulful harmonies that only Levon Helm and Richard Manuel could bring. And of course Garth Hudson's organ mourns throughout.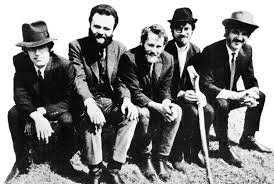 And that brings us to Colin Linden, an excellent Canadian singer-songwriter and prolific producer who brilliantly captures Americana with his bluesy voice and guitar style.  Linden's oxymoronic Canadian Americana connects him instantly to The Band. This guy is so good, yet sadly he is not well known.  Linden excels at writing beautiful, melodic blues-rock and folk songs. What distinguishes him from The Band is his fresh, contemporary style. Colin actually played on The Band's post Robbie Robertson albums and Band members played on his early albums, giving him an insider's knowledge of The Band.
Linden recorded Delia Come for Me on his 2015 release Rich in Love, which is, like all his albums, great from start to finish. Delia is one of the album's standouts.  But as good as it is, it's even better if you consider that Linden wrote it within the context of Long Black Veil.  Or at least, I'm pretending that he did.  It's fun to draw connections to songs.  But it can be misleading.  For quite awhile I thought the The River was the natural sad conclusion to Springsteen's Thunder Road.  It just made sense.  But I was wrong.  Springsteen said so.  I'd love to ask Colin if Delia is the prequel to Long Black Veil.  I'd be geeked if he said it was.  But I certainly wouldn't bet on it.  That said, the connection seems obvious to me.
I didn't do the things they said
I was just the first man that they found
They were looking to put someone away
And bury in that cold cold ground . . .
So Delia come for me, and tell the world about our love
Delia pray for me, cause the truth don't seem to be enough . .
.Delia come for me, cause I'm going down for sure
Delia pray for me, cause the sun ain't gonna rise anymore. . .
Delia Come For Me - Colin Linden
Simply and beautifully picked with light percussion.  It's a gorgeous song. 
The way that I see it, the brave deceased in Long Black Veil struggled long and hard with his decision not to reveal the love affair.  He wanted to live, but he couldn't bring himself to confess his actual crime. Lefty Frizzel paints his protagonist as a stoic hero from the grave in Long Black Veil.  However, the same man struggled mightily in his jail waiting for the hangman. Maybe he was secretly hoping that his lover, Delia, would confess.  The voice Colin Linden put to our hero was different from Long Black Veil, showing the depth of the character and making him more human. 
- Alan Likes Music